Interior Measures 3.5" x 4.5"
#9 YKK Zipper
Made from 1000D Cordurda Nylon, 500D Cordura Nylon, or 10 oz Waxed Canvas (Topo is made from XPAC VX07)
Vertical Front Pocket covered with 3" Loop
Vertical Rear Zippered Pocket Perfect for small documents or cards
ONE POUCH PER CUSTOMER ADDRESS PER DROP. Multiple orders will be refunded.
Customer Reviews
05/03/2022
Such a dope addition to my EDC!
Keeping all my small tools organized while the loop front gives me a chance to spruce it up with some flare! I even carry a couple of packets of hot sauce because well, you always gotta be prepared. Well constructed and sturdy. 10 out of 10 will buy again!
Teddy

United States
05/03/2022
Poor Quality Control Issues?
I've heard a lot of good things about the mighty pouch + and was finally able to grab one on Saturday in OD green! I wanted black but that one sold out in a couple of seconds. The pouch arrived today! Very quick shipping! The pouch looks amazing, and feels high quality too, but I noticed two issues when examining the inside The first issue is that the elastic band is sectioned off unevenly. I am unsure if this is intended, or error on the stitching, but there is a medium, large, and small section. The small section is so small that you can only comfortably put a small pen in it. I had a pill tube container with a diameter of 1.7 cm that could be squeezed into it, but it was a tight fit and it took a little effort. Same situation when trying to put a small swiss army nail clip 580. Not a big deal, but when looking at pictures of other peoples pouches, they all seem to have better spacing where they can comfortable fit more things in all three sections. The second issue, and bigger issue is, the stitching in the pouch behind the elastic band seems to be unraveling or loose. I have included a picture of the loose thread. I love the pouch and still plan to use it, but considering how hard it is to get and the price, I expected to have no issues. Everyone seems to say that this is the best pouch on the market, but not the one I received. Maybe due to the huge demand, the creator has been making these in a rush and that is why there is lower quality control.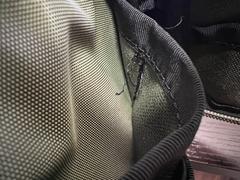 05/03/2022
Garage Built Gear
It's the end of a thread. Trim and you're GTG.
David C.

United States
Derek H.

United States
05/02/2022
mighty pouch +
The mighty pouch lives up to its name. I purchased an OD Green vx Mighty pouch and it has been my favorite carry up to date. The build quality is solid and feels sturdy in the hand. Nice chunky smooth zips and plenty of room for my everyday essentials. There's a lot of imitators but this is the original. Difficult to secure but well worth the wait.
Erik F.

United States
Cam o.

United States
04/21/2022
Nothing beats this gear
These pouches instantly sell out for a good reason, the craftsmanship and quality are amazing. The size is perfect to take anywhere and the internal organization is well thought out and very useful. I've collected a large collection of pouches over the years and I always prefer to use my mighty pouch for all my edc needs.
Max

United States
Raymond A.

United States
Robert S.

United States
04/01/2022
Mighty +
Amazing quality!!! I own 3 and everyone of them has surpassed any other pouch out there…hoping to have a custom one someday…
Scherf

United States
03/14/2022
The Carhartt Mighty +
Absolutely love this color way! The waxed canvas is nice and rugged and takes a beating. I carry mine everyday on the farm in my Carhartt vest pocket. It's by far my favorite piece of EDC gear and fits in perfectly on the farm. I'm excited to break it in and see how it wears over time. Fits tons of gear and my daily essentials. Awesome pouch and great guy behind the table making them! Built really stout and farm tough approved!