Made from 500D cordura
#10 YKK Reversed Zipper
550 Paracord
1" Mil Spec Webbing
Measures 4" x 3.5"
Garage Built in Tennessee 
Customer Reviews
louie o.

United States
10/02/2021
Perfect Size
Quality pouch that holds a few important items; mask, swiss champ, dango pill stash, & treasure of course! I think this functions better without the elastic and loop handle & will do until/if I can luck out and get a mighty pouch! Thank you for the speedy delivery of this great hidden find!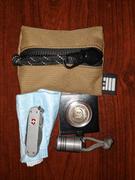 eddie m.

United States
Dalton B.

United States
everardo b.

United States
01/22/2021
Nice!!
Excellent idea and great to put my chapstick, AirPods Pro and a small SAK SD (Alox version). The 2 handles (paracord and nylon webbing) are good ideas, just that they are a little cumbersome. If I'm going to throw into a bag, no biggie. I will not always use a bag, but my pockets. I don't just want to cut them off either. Wish there was an option to not have these or simply smaller. I'll have to rig this up to make a belt loop out of the handles and not weight me down as much.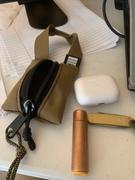 James B.

United States
Bruce J.

United States
07/15/2021
EDC Grunt Bag
Nice little EDC bag for your pocket, key chain or your pack. Solid build. highly recommend to stow your small items such as earbuds, keys, pocket knife, meds, etc. I would like to see a zipper pull option. Just an observation; when fully zipped there is still a small gap between each side of the zipper where water or debris might enter. Not sure if there is a way to build a fully closed zipper into such a small unit. Still, bought two and have recommended to others already. Great gift for those EDC freaks out there! Nice work!
Kevin H.

United States
05/28/2021
Grunt Bag
Great little bag for some EDC items. seems super overbuilt, which is a good thing. Looks very solid and like it will last forever..
Gustave Z.

United States
04/30/2021
Built like a tank
Great quality built to last a lifetime
P.J. Kleinert

United States
03/28/2021
Great bag!
Just what I was looking for! Built to last
Mike W.

United States
02/12/2021
That zipper is huge!!
Great product. Fits wonderfully in the pocket.
Jared H.

United States
01/19/2021
Pretty neat
Well built. Perfect for small things I don't want sliding around in my lunchbox. Nail clippers, etc.
Jon L.

United States
09/14/2020
Over BUILT high quality
Purchased this to organize my front pocket edc items, the quality is top notch and over built. Excellent item from an American company.
Jonas

Jamaica
09/14/2020
Comically overbuilt!
This thing is so overbuilt it's crazy! Zipper is definitely out of scale but that's what makes this so good! Feels like this will last a lifetime.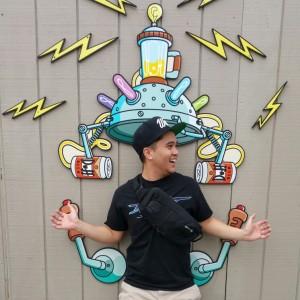 AE
Art E.

United States
09/08/2020
Get it!
High quality and you will find use for it whether you thought you wouldn't. So just get it!
Levi H.

United States
07/23/2020
Excellent
Purchased some of the bags. Great for everything from gym to tactical. I probably should've given it 5 stars but I wish the fabric were 1000 denier, not that there's much difference between 1000 and 500 but it's just a personal preference. Otherwise, great home grown American product!!!
Wade G.

United States
06/25/2020
Best stuff ever
I've ordered gear from high end "companies" Garage Built Gear brings the price down for the same quality for half the drama.
Paul R.

United States
05/28/2020
Grunt bag
Great product, built good and fits my need exactly.
Hoang N.

United States
05/05/2020
Solid Stuff
Matt's gear is top. High quality materials, quick-turn even during trying times and AMERICAN!
Christopher G.

United States
05/01/2020
gym duffle, head rest and grunt bag
when the items arrived I was concerned, the duffle was smaller than I expected... but it turned out to be perfect, wanted to use it as my duty bag and retire my beat down tac tailor assault pack. the duffle fit everything better! solid buy. the grunt pouch... idk what I'll do with it, made well though, certainly no complaints!
Steven O.

United States
03/01/2020
Grunt
Excellent miniature bag for my edc items! Tough as nails and craftsmanship is clean!