Interior Measures 3.5" x 4.5"
#9 YKK Zipper
Made from 1000D Cordurda Nylon, 500D Cordura Nylon, or 10 oz Waxed Canvas (Topo is made from XPAC VX07)
Vertical Front Pocket covered with 3" Loop
Vertical Rear Zippered Pocket Perfect for small documents or cards
ONE POUCH PER CUSTOMER ADDRESS PER DROP. Multiple orders will be canceled and will result in a transaction fee.
Customer Reviews
09/12/2022
I love garage built gear
I own 5 mighty pouch plus and a tchotchke all in different colors and they all have a theme
Tiago D.

Canada
09/12/2022
Great product
Great product, quality is amazing and it fights my edc items perfectly! Very happy that I was able to get one!
Alex K.

United Kingdom
09/12/2022
I don't leave home without it
When I first opened the package I thought this pouch was a bit small and was gonna be unable to hold everything I need it to. Boy was I wrong! I can for so much in this pouch without it becoming too bulky and it always fits in a back pocket or compartment on my bag easily. It's well made and incredibly sturdy. I think I want to try and get a couple of others to rotate out and one to gift to my partner who is now jealous! Shame they're so hard to grab, but I can see why!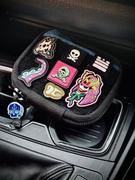 Joe G.

United States
09/11/2022
Mighty Pouch + Royal Blue
Top notch quality! It's a great design and holds a huge variety of items.
Leland M.

United States
Jacob D.

United States
09/11/2022
The hype is real!!
It's a cool American made pouch with high end materials. Yes, they are hard to get but if you are able to get one, do it! You will find a use for it. Shipping was fast and prompt. I would totally recommend!!
Brad H.

United States
09/11/2022
Mighty Pouch+
Great pouch for keeping the miscellaneous pocket overflow organized and easy to swap between bags.
Zack G.

United States
09/11/2022
Awesome!
I FINALLY got one!!! It's GREAT! Seems bigger than it looks! :)
Graham R.

United States
09/09/2022
Always Great
Handmade! Always perfect! Thanks Garage Built Gear!
Joel B.

France
Jake S.

United States
09/08/2022
The Mighty Pouch +
Was lucky enough to get one in gray and I absolutely love it! It's made super well and just feels great in the hands. Holds all your favorite EDC items from knives to flashlights. I love taking it out just to look at it. Beautiful piece of art and an EDC staple.
Mario S.

United States
Robert P.

United States
08/29/2022
Worth the hype!!!
The mighty pouch is so popular for a reason. This dude cranks em out and they sell out. Enough said.
Jeff Y.

United States
Brieann O.

United States
Tim S.

United States
08/29/2022
Pouch +
Very nice product. Looking forward to using it. It appears to be able to hold all those items I was hoping it would.
George C.

United States
08/29/2022
I can't stop buying these pouches
I read all about the hype of these pouches. I was lucky enough to purchase one and was extremely happy. The build quality on these are second to none. Well, I got lucky again for the 2nd time to buy another. Now so find myself on insta and FB waiting more drops. These pouches are freaking amazing!
Erick G.

United States
08/29/2022
Mighty pouch+ royal blue
Nice handy pouch! Has good attention to detail with pockets and notches to hold whatever you wanna carry daily in place neatly organized. Made in the USA so you know its quality! After seeing mine my family wants pouches for themselves now too haha
Fernando C.

United States
Rob C.

United States
08/29/2022
Great made in USA product!
One of the best edc pouch makers out there!