Just under 10L - Perfect for Light Office Carry
Made from 500D/1000D Cordura Nylon
#10 YKK Zipper w/ Reverse Zips
Front Vertical Zip Pocket
Two Zippered Mesh Pockets
Fits Virtually any Laptop
Ambidextrous Padded Single Shoulder Strap
Binding on Interior Edges
3"x2" Patch Panel
Garage Built in Tennessee
Measures 15" x 10" x4"
Customer Reviews
Michael R.

United States
Fernando M.

United States
07/16/2020
Urban Sling Bag
I've wanted a good sling bag for awhile now but I'm a big guy, and no one makes a sling that fits well on big guys. Thankfully Matt hooked me up by adding some extra webbing for me, and I'm rocking this bag all day every day. This bag is well made in all aspects. Plenty of room for me edc gear.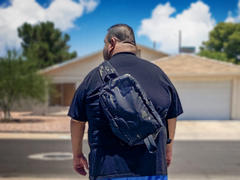 George M.

United States
03/08/2021
Solid sling bag
This bag is solidly built and comfortable to carry with a full load. I am very impressed with the construction.
Erik Y.

United States
01/30/2021
Great inbetween bag
Not quite a backpack but not a tiny sling either. I was looking for something that could hold a folder and books but not hide all my EDC gear. Stands up on its own and hangs off a shelf at work. The inside mesh pockets are the perfect size. Only con, and its barely a con, is that the bag I received doesn't have a morale patch panel. It trival but it was a feature I was looking for in a new bag. Will still give it five stars.
Tyler J.

United States
01/28/2021
Urban Light Sling Pack
Very cool little pack indeed. I grabbed it for daily trips to the coffee house for work. It fits my 15.6' HP Laptop fine. I've been using it daily with no real complaints. A cool option would be the addition of a velcro style panel in on of the pockets for a conceal carry.
Samuel B.

United States
06/02/2020
Urban Sling
Very impressed with the build quality of this bag. Bought it for a gym/extra bailout bag to have in my Patrol Unit. Will be making a few more purchases here in the future.
Dimitri G.

United States
05/29/2020
Amazing !!!
Great product , great price , and quality . fast turn around on customs. Will be back soon !
Hoang N.

United States
05/05/2020
This bag delivers
Another awesome product. Great utility holding my 15" laptop and the interior pockets make for convenient storage of EDC items. Probably take this fishing one day...
James H.

United States
02/28/2020
Great bag
Fits my needs perfectly
George B.

United States
12/17/2019
Urban light sling bag
Loving the bag so far. The construction is top notch and the hardware is solid. Surprisingly, for the size I can fit all the stuff I need for work. The bag was shipped at at my door within the same week, again, that's surprising cause I live on an island in Alaska. I would recommend this bag to anyone looking for a daily carry bag.
07/04/2019
Great Bag, Great Quality
I asked about doing a custom addition to the bag, and was expecting it to take much longer than it did. Had the bag in my hands in less than a week, and the communication the whole time was spot on, and even sent me pictures while the bag was being modified to be sure it was how I wanted it.
06/12/2019
Unique
I am kind of a gear whore of sorts so when I stumbled across this brand I had to try it out. This bag is very unique and I am asked all the time where I got this sling bag. I have a lot of edc gear and although I am not a sewer I can say these are made much better than some of the other bags I have with a lot of attention to detail - Great stuff.
06/07/2019
Great laptop bag
I've been using this bag for a couple of weeks now as my everyday carry laptop bag for work. Carries my ThinkPad with ease and has room for other work and travel essentials. Simple one strap design is much better than the backpack I was using and no extra webbing to hang everywhere and get tangled in things. The build quality is top notch with oversized zippers that should last longer than I do. Looks great too. I am very satisfied with my purchase.